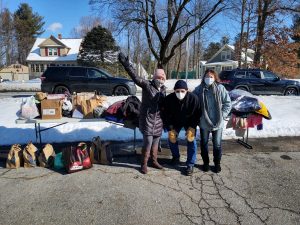 Another Super Bowl.  Another halftime show.  Another Tom Brady blitz.  Life goes on during the pandemic, and over the last few days, countless peoples have chatted about whether or not they liked the commercials, the weeknd, and the infinite quarterback.
We humans have to have something to talk about, and what's worse, more times than not we have to have something to complain about.  The weather, local government, or our 45th president.
What if, instead of talking about something else, we did something others talked about?  I know, I know, easier said than done, but its possible.  There will never be a small amount of people talking about or complaining about things happening in life, but what if you decided today that instead of being one of those people, you acted in a certain way that made people talk about you and your actions.
Please know I mean this in a good way.
I don't mean you get in a drunken stupor and drive around like Tiger Woods or Justin Beiber, or you call your family members like Mel Gibson or Alec Baldwin.
I mean you took a step of goodness that helped or loved on your community in such a way that even the densest of people took notice.  A few years back, I read Bob Goff's book, "Love Does", and he talked about how instead of going to a parade one particular holiday, they decided to host a neighborhood parade, where there were very few spectators, but mostly only people involved in the parade.  People took notice.
What if you hosted a drive for someone or people in need?  Or shoveled a random neighbors driveway after snow?  Or wrote letters to people who may be lonely?  True, not everything needs to be noticed.  Getting noticed is actually not the point.  The point is what if you acted in a way where, if people did see you, they would talk about it, and perhaps it would influence to act in such a way too?
My church has a food and coat drive every month.  The building is on a Main Street so a lot of people notice.  Last year we received 200 pounds of food and 50 coats or so.  I set a goal to bring in 1000 pounds of food  in the first quarter or the year, and as of last Saturday, we already hit that 1000 pounds goal.  I love that we hit that goal!
There will never be a shortage of things to complain or talk about.  The Super Bowl, holidays, Oscars, celebratory months, all come around every year. Now, however, is our time to bring good news to the world.  So get out there and decide to do something good that the world can only notice and want to talk about.
Let's brainstorm:  What is one thing you've done that has been noticed?