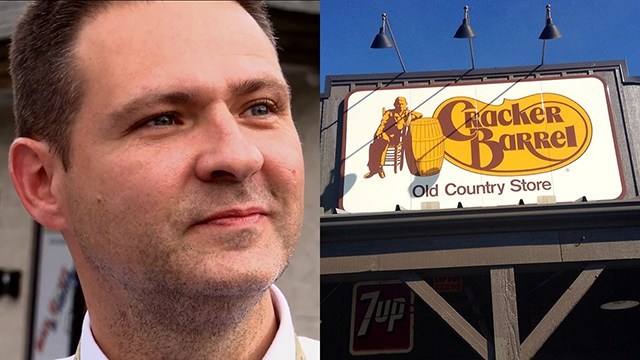 The 3 sides chicken and dumpling dinner plate with fried okra, green beans, and fried apples – That's what I'll be ordering the next time I visit Cracker Barrel and thank them for not allowing a Sheriff's office detective in Tennessee and pastor of the All Scripture Baptist Church to meet in their restaurant for a rally against the LBGTQIA community.
Let's start from the beginning.  This Tennessee pastor from ASBC, an "independent, fundamental, King James Only, Soul-winning church" – where when you attend you shouldn't "expect anything liberal, watered down, or contemporary" – preaches a message against homosexuality, and then Mr. (I'll not call him pastor from here on out) Grayson Fritts loses his mind and calls for the arrest and execution of those in the LGBTQIA community.
Now I haven't seen the video as YouTube has taken it down, though this gem right here is still up, but I've seen quite a few of these types of messages and here's what happens.  Dude stands up and starts preaching, and he goes off about a particular sin that the Bible says.  Then the crowd starts to get into it.  Then the dude starts to get excited because the crowd gets into it and he (it is most definitely always a "he") starts railing harder on the sin.  The crowd cheers and yells "amen" loudly, which only serves to excite the dude more, and then he rails either more deeply about that particular sin or starts preaching against all kinds of other sins.  Many many times this leads to the dude taking his preaching 1) too far and outside of the scope of his point or 2) completely out of context from the what the Bible actually says, though dude would certainly say defend himself by saying something like "I'm just preaching what the Bible says" which is actually a lie, but it sounds good I guess.
The last time I heard a message like this some other dude was preaching about Romans and he somehow went off on single moms who work at bars, telling every person in the room (average age 73) that God would never bless a single mother who worked in a bar.  My wife looked at me and asked me with her eyes, "Why are we sitting here?"  "Good question, Carie."
Anyways, the video of the sermon went viral and eventually it was taken down, but clearly the dude took a lot of slack for what he said.  So instead of sorrow or apologizing for saying something so absurd as calling for the execution of people loved by God, he instead doubled down and tried to rally others who believed like he did.  "Where might a rally like this happen?" You ask.  His church? The local town green?  Nope.  Cracker Barrel.  You know, the place that smells like Christmas and Grandma's house and usually has more people waiting than the DMV before the arrival of the internet.
Thankfully Cracker Barrel put a stop to this, writing a letter to Fritts and telling him his crew would not be welcome to meet at the Cleveland, Tennessee Cracker Barrel or any of the fine "off the highway" establishments.  Not even at the amazing row of porch rocking chairs or church pews out front.  "High five, CB!"
So here are some short points to make things more clear for us as we move forward with this part of our nations history:
You're not being persecuted if the world has a problem with you telling others they should be executed.

 

You're being held accountable.
You're not being Biblical if you tell a group of people at a church that the LGBTQIA community should be arrested or executed.

 

You're being an idiot.
If you say something like this from a stage to a group of believers, you will be forgiven by a merciful God who loves you and should be forgiven by those people who listened.

 

Now please get off the stage and resign as soon as you can, for you are not a prophet or a pastor but a showman who might enjoy a good partnership with P.T. Barnum if he were still alive.
I wish these types of things wouldn't happen, but alas, they do.  I can only say that as a Christian in the wilderness 'I'm sorry', and events like this, while many times not so outlandish, do a great deal of damage to the name of Jesus and his bride.  This contributes greatly to the growing number of Christians who find themselves in the wilderness.  But while we're here, let us practice the christological effect of sacrificial love for those who we disagree with, and in the process, perhaps we will be changed to have the "lowly, humble, and servant mind of Christ."
Also, "Ma'am, could I get a sweet tea with that?  Thank you."
I'd love to hear your opinion on this?  Was the guy right in his thinking?  Was Cracker Barrel right or wrong?  Is there a perspective I'm missing?
Written by Marty Holman