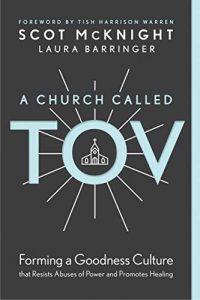 Around 2010, I first read the book, "The Forgotten Ways" by Alan Hirsch.  I pastored as an assistant at that point for 9 years, and then transitioned to a senior pastor role 3 years earlier.  When I read it, I was astounded that there was good data and wisdom to going back to church the way it was done in Acts.  So I took my church and headed for these real waters of goodness.
One hurdle I constantly battled was that many of those who enjoyed a missional organic church, also didn't actually believe the Bible.  This was problematic to a young, immature pastor, and so after a few years, I transitioned back to worshiping at the alter of Andy Stanley.  I half joke.  I still love Andy and his ministry, but I probably mimicked him a bit too much.
My ministry was quasi successful, meaning we grew on Easter and Christmas and generally speaking didn't decline much.  200 in attendance each week came and we worked really hard at creativity and also a strong small group ministry, led by strong leaders who easily could have been pastors themselves.  But all that was not enough for me.  I wanted more.  I wanted to grow my church to be one of those great churches recognized by the likes of Christianity today.  I wanted Andy and Craig and Steven Furtick and Brian Houston to rub shoulders with me and invite me to their homes and I could sit at their feet while a catered dinner showed up magically so we could eat, right before we played a game of basketball in their full sized courts located somewhere on their 30 acre properties.  It wasn't happening for me.  I loved my church and I more importantly, I loved those i went to church with, but I always wanted more.  I believed it could be done, even in the graveyard for pastors, New England.
So in 2015, after a brief time of discouragement, I (along with my board) decided to merge our church with a mega church headquartered in New England.  Things grew and grew quickly.  I stayed on as the campus pastor in Central Massachusetts, and our attendance grew from 200-350 very quickly.  In the end, it didn't go well.  Five years later, and I find myself at a small denominational church with a decent building and a history for treating their pastors poorly, but I'm pretty happy.
I happened upon the book, "A Church called Tov" when Pastor Dave Ferguson posted about it on Twitter.  I had read the book he co authored with Hirsch, looked at the topic, realized I had read books by Scot McKnight before, and off I went to Amazon.  I downloaded the book and started to read.
The book captured my attention immediately, talking about the allegations against Bill Hybels in the last several years.  Like one of the authors, Laura, says about how she felt when she first heard those allegations, I too, felt weird reading about this story and the problems of Willow Creek.  It felt a bit like I was a part of a gossip circle, and maybe I should put the book down.
You see, when you work at a top down focused church, as Scot McKnight and Laura Barringer describe, you understand that one thing you don't ever talk about or even question is the failure of the leadership of that church.  And most specifically, you definitely do not question any failures of the pastor.  I remember sitting in a room with the staff.  We were eating lunch, sometime in 2017, and the pastor decided to speak to me.  Whenever he spoke to his staff, he always made it seem like it was such an honor, like he was graciously giving up his time when he could have been doing a million other things.  He asked me as we spoke and with a few other voices milling about and listening, what I thought the most important quality of a staff member was.  I told him I thought it was persistence and integrity.  He told me he thought it was loyalty.  And then for the rest of the crowd, he spoke about the need for loyalty in every staff members life.
He was driving the importance of loyalty as a culture.  The next section of "A Church called Tov" was all about the importance of having a "Tov" culture or a culture of goodness.  My former "mega church" always talked about culture and there were culture points and all that, but then there was a staff culture, and it did not major in goodness.
Building a culture of goodness is very difficult and especially so in a church with a hierarchy leadership ring.  One of the authors say, "I have wept bitter tears as a powerful male pastor surrounded himself with a tight inner ring of adorers and responded harshly to any he deemed unworthy of his careful affections."  I too wept when I read that, having been in a room several times when the pastor and his adorers attempted to convince us why it was best for all of us to not have so and so in the room anymore with us.  It was best for us.  It was best for them.  It felt right, except that we were now basically saying that could and would happen to anyone, and more times than not it was not spiritual, but the former member just couldn't hack it.  Church had become an environment based on merit, and I wasn't strong enough to battle against it.  I had handed over my caring, loving church community to this environment, and now I felt stuck.
I loved the section of the book that focused on culture because it represented a gateway to the author's optimistic part of the book.  For if you think this book is a tell all on some bad pastors, you would be wildly mistaken.  The section on culture jumpstarts the belief the authors have about what the church can be, even big churches!
The authors write, "Compassion will characterize a church's culture when the congregation and leaders consistently interact in compassionate ways, until a critical mass of compassion tips the balance in the direction of becoming a compassionate culture. When a church's culture is rooted in compassion, it creates an environment of safety, security, and openness."
I started thinking when I read that, Why wouldn't a church's culture be rooted in things like compassion and goodness?  After all, these are the things that came from Jesus.
I'll finish this review by focusing on how the book calls to form a more perfect culture of Tov:  The church – as a whole –  must do the hard work of resisting the toxic cultures created with the bad behaviors of some, and jump in with perseverance, strength, and courage to develop a culture of goodness.  We must get to that point as a church.
For years, I wanted a big church with lots of people and lots of fans.  In order to do that though, I must build in qualities that shouldn't actually be a part of the bride of Christ – No accountability, merit, and competition.  I was stuck in a toxic culture because I needed money for my family of six, and I was afraid to call anyone out.  I didn't have the courage to do the right hinge at the time.
Thank you Scot and Laura for your incredible work on where we need to head as a church.  I'm thankful for it, for what it taught me, and for the ability of God's church to change despite the poor culture we have created within it.  I encourage anyone, pastor, staff member, or church goer to read A Church called Tov" and fight for your church.  In the end it will be worth either changing your church or finding a new one.