Today I did it. I created an Amazon author page.  You can only do that if you have a book at least in pre-order. For the first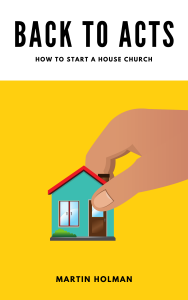 time, you can pre-order my book "Back to Acts:  How to start a home church".  It's a short book, but full of good insights on the home church movement.
My novel "Flat Earth" is only a few weeks away from pre-order!  That novel  will be released on Earth Day, April 22, 2020, and "Back to Acts" will be released on May 1.
Please subscribe to my newsletter too, but putting your email on the right sidebar of this page.
Thanks to all of you who are supporting me through this journey of authorship.  I hope you are enjoying my blog posts and I hope you'll absolutely love my books!