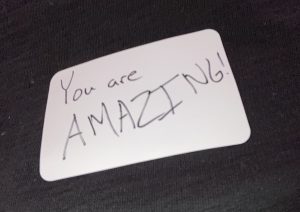 Today, January 24th, is National Compliment Day.  As a society, we are so inwardly focused (social media hasn't exactly helped this) that we hardly have time to pay someone a compliment.  So spend today making a commitment to compliment as many people as you can in an authentic way.
My church celebrated yesterday by wearing blank name tags and writing down generic complimentary messages they wanted to share with others who they passed after the left the building.  Here were a few of my favorites:
*You are amazing!
*You make God smile
*You are so wonderful
*You look smashing today!
When we get lost in the hustle and bustle of our days, we think heavily about ourselves and ways we can improve and the kind of person we are.  Don't pass a person today without first taking a second and paying them a compliment of any kind, as long as it's positive.  And thanks so much for celebrating with us here at the Holman Report.
Oh by the way, you really are a fast reader!