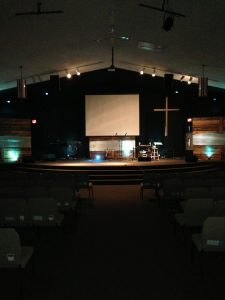 I listened again recently to Hillsong United's massive 2013 hit, "Oceans".  Here are some of the lyrics:
You call me out upon the waters
The great unknown where feet may fail
And there I find You in the mystery
In oceans deep
My faith will stand
And I will call upon Your name
And keep my eyes above the waves
When oceans rise, my soul will rest in Your embrace
For I am Yours and You are mine
Spirit lead me where my trust is without borders
Let me walk upon the waters
Wherever You would call me
Take me deeper than my feet could ever wander
And my faith will be made stronger
In the presence of my Savior
The song is an incredible ballad focusing on moving in and with the Spirit of God.  It's an intense idea to say the least and one which most people, much less Christians, generally avoid when thinking about God and how he moves in the world.  We tend to restrict ourselves to a building and systems and how we think and move.  The concept of Oceans and moving with God is too "open to interpretation and manipulation" for us 'wiser than most' Americans.
A few years ago, one of my favorite church bands played in front of me every week, singing amazing songs like "Oceans", "One thing remains", "Cornerstone", and a plethora of other new songs given by God to the church.  I am, of course, biased because they were the band(s) at my church.  And they were good.
Ryan and Edison led the way, with Haley's golden voice rounding out the vocals.  Edison played the keys.  Ryan played guitar.  Ray and Matt played bass.  Dave and Justin jammed on the lead guitar, and Tim and Matt played the drums.  Others rounded out the parts and subbed in on a regular basis.  This band was young (for the most part) and outstanding at what they did.
In 2014, as a church we frequently sang "Oceans" as an anthem to what was ahead.  We decided to move forward with selling our possessions, building, and land and move to Showcase North Cinemas Three miles away.  We lived out the instructions of the song, and I am thankful that we did.  Over time that band separated, moved on to different locations, churches, and even belief systems.
So as I listened yet again to the song, and it played triumphantly from my Echo Show, I thought about that band and those musicians.  I thought about how they worshiped for years together and sang that song.  I thought about the risks we took as a church, and even that they learned to take as a band.  They sang and played this music and the words that erupted from their mouths asked God to lead them where their trust is without borders, wherever he would call them.
So now more than five years later, I'm asking you to revisit the song.  Ryan, Edison, Haley, Ray, Matt, Dave, Rom, Tim, Matt, Angela, Paige, Joe, Dave, and all the band and tech crews that worked and played that song.  I don't know where you all are spiritually, but I'm asking you to sing those lyrics again.  To understand that it is more and not less likely that He answered the song on your lips, and that things are drastically different than the safe church zone in which we worshiped together some years ago.  You may very well now be walking on those waves and waters and nervous about even serving Him at all.  When you walk in the midst of the storm, sometimes the safe waters of land or fame or popularity or money or what every once else is doing feels like the place to be.
I promise you, it is not.
God isn't only God when you stand on a stage and use the gifts he's given you.  He is God at all times, and especially now, when doubt and fear and youth and loneliness and materialism may have crept in and stole the joy of your salvation.
I urge you, one of my favorite bands who I ever saw play (and I have seen
Sister Hazel
) and any other bands who may have played the song "Oceans" back in the day to sing it again and thank Him for taking you deeper than your feet could ever wander
And your faith will (ALWAYS) be made stronger in the presence of your Savior.
Please swim again, in the "Oceans" of God's Spirit.