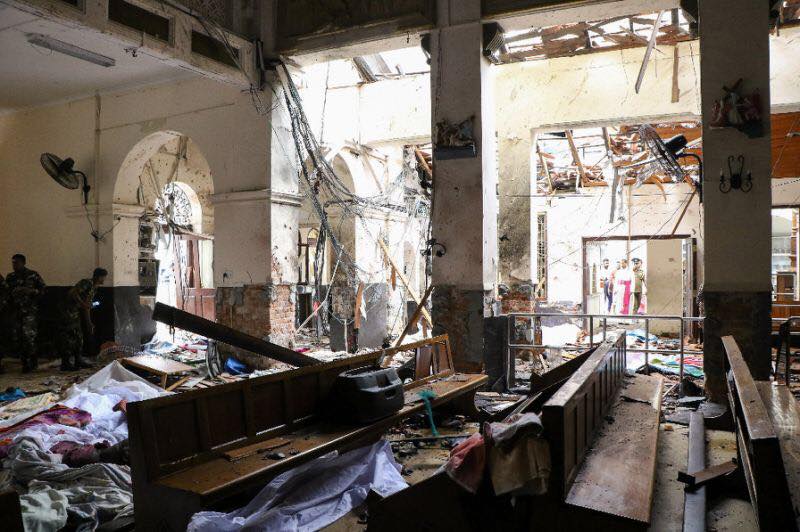 Two tragedies. Two Facebook worthy stories people shared and talked about in the last two weeks. Personally I've never been to either of these places in depth, though I flew through Paris once years ago.

First of all, Notre Dame Cathedral. An example of French Gothic Architecture, its construction begun in 1160 and finished 100 years later.
In the 1790's much of it was destroyed because of the French Revolution, but was restored again in the 19th century.
It is popular. Like 12 million visitors a year popular, making it the most visited monument in Paris, which I probably don't have to tell you is no small feat. 
And then on April 15th, the Notre Dame Cathedral caught fire and burned for 15 hours, nearly being completely destroyed. The world looked on in horror and countless numbers of people shared photos of themselves in front of the world renown structure. It was beautiful. Humanity is beautiful.

Next, Sri Lanka. An Island country in the Indian Ocean, located in South Asia. Its government is a democratic socialist republic that is a part of the United Nations and also gives special designation to Buddhism, though stops short of identifying it as a state religion. It's history dates back a long ways and its also the first Asian country known to have had a female ruler, Anula of Anuradhapura (47-42 BC). Sri Lanka was also the first country in the world to establish a dedicated hospital in the 4th century.

On Easter Sunday, April 21, seven suicide bombers, apparently from the group National Thowheed Jamaath, blew up their bombs in 3 Christian churches and 3 hotels. Soon after a collection of smaller bombs were detonated in the areas as well, ultimately killing (to this point) 321 people and injuring more than 500. At this point 40 people have been arrested and information has been released that authorities were given an intelligence report claiming that the aforementioned group planned to bomb churches. Authorities have also released information that the bombings were likely in retaliation for the Christchurch, New Zealand mosque shootings that happened on March 15.

You probably noticed that the title of this article is "Sri Lanka and the problem with a polar climate." And as you know, Sri Lanka is not actually in a polar climate. But we are currently in a political climate that is so polarized, people can't die without different sides coming out and making a case as to why their side is right and that we should, "have guns/get rid of guns", "have less/more religion involved in daily life", or "have more/less government involvement in personal lives".

These questions have been around as long as I have been around, but the separation between the sides at least in America has become so great that for the first time in at least 30 years, I'm hearing increased rhetoric on both sides of the political spectrum talk about separation from the other side altogether.

The reason I started this article talking about Notre Dame Cathedral centers around the conversation transitioning quickly from "a world renown piece of art" to whether or not it represented the actual fall of western civilization. And now Sri Lanka. The tiny country is suffering at the hands of what turned into despicable amounts of horror, violence, and pain, and the conversation is about to (literally the news came out about the bombings being a retaliation while I was working on this) transform into the Christians verses the Muslims.

My worry though is two fold, and I think maybe there is something we can do moving forward. First, hurt with the hurting. Before we paint any groups any color or title we are feeling, let's first try to feel the pain of those who have lost family, friends, co workers, and classmates across the world. Let your first response to this human tragedy be love and empathy. Don't move forward without realizing that all of this, both the victims and the culprits, is about pain and hurt, for if you do, the next step is to consider ways of retaliation. I'm not very good at empathy personally. My way focuses on just blame, getting justice, and moving on. Feeling is not something I do well, but what if I worked on it? What if we as a society stopped and asked questions about why things are happening and unfolding the way they are? Don't get me wrong, I think justice needs to be served and the hammer needs to be dropped. But I know as well as you do that the hammer dropping does not always equal results. (Please see "Vietnam" for more information on this)

Secondly, find someone you disagree with ask them questions about why they think the way they do. And I mean live and in person. This should not be an option, but should be required homework of all humans. Yelling and debating at people who disagree with you online just does not seem to be working anymore. Nor will only talking to people with whom you agree. Recently Facebook shared that they are making changes to how they do things because people are using the newsfeed less and using the specific group pages they are a part of more. I haven't taken a poll here, but my bet on why that is would be because people don't want to be reprimanded by "Joe Disagreer" on the internet anymore. So because we can't have civil discussion, we are headed back into connections with only people we agree with, and in the larger picture, that's not a great thing.

I'll leave you with this story. In October of 2015, Carie called me and asked me if I had seen what was going on online. I told her I was in meetings and I had not. She insisted I jump on facebook, so I did. In the last 2 hours before she called me, a group of people essentially began to attack me and my church for things that were simply not true, and as the conversation grew, several people that were in this group began to share their thoughts and feelings about me and this particular topic. I was not debating, and I was not present in this conversation, but a few of them had some sort of vendetta against me, so while some had good intentions to raise concerns that I do care about, a few were driving the larger blaming conversations and expecting me to join in. Poor Carie jumped in to honorably defend her husband,and they ignored her information not as valid, simply because she was my wife.

I eventually did join in about 12 hours later, taking the advice of a friend and telling them that I wasn't going to answer their attacks. It kind of deflated their enthusiasm and possibly they went out and found someone else to falsely accuse that night.

Last week, one of the people who did not lead, but participated in the conversation wrote me out of the blue and reminded me of the conversation, then apologized for participating in it. He said that he saw it and "took the side he was supposed to take." He wrote that "he was wrong and that he knew better than to join the mob, but he did anyways."

I don't know how difficult it must have been to write that and apologize to me after 3.5 years, and after all, to be honest, I didn't even remember his part in the conversation. But I will tell you this, I was humbled by his apology and encouraged to right some wrongs in my own life. Building unity is a lifelong sport, and it doesn't come without its difficulties. We don't all have to have the same side, but we all do have to love. Or at least thats a pretty good end goal. #srilanka #Easterbombings
Marty Holman ~ Holden, Massachusetts