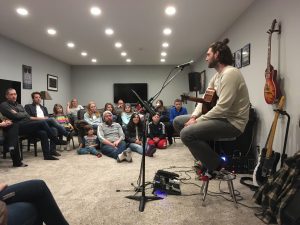 I remember the first time I sat in a room with a church "band".  It wasn't as long ago as you would think.  I spent years in a delightful community of people who loved Jesus but perhaps thought that music with drums was some sort of black eye to those who followed Jesus. Then in Christmas break of my college year ('93-'94), I attended a Calvary Chapel in Tucson where my parents lived at the time (Shout out to Pastor Robert Furrow) and I still remember hearing the song "There is joy in the Lord" for the first time done by the amazing band and church that hosted me at the time.
All that being said, and I'm sure I'm not being profound here, but a band playing a pop song/chorus is no longer all that creative in the church world.  Those songs are the new hymns.   Many many many churches in America do the same songs as their next door neighbors thanks to the excellent distribution channels of Chris tomlin, Hillsong United, and Bethel Music.  I'm not hating, it's just no longer that creative.  I quite like singing Hillsong United songs.  They are a great gift to the church at large. (if you don't believe me, listen to this or this)
And then I went to my friend Clay's house for New Year's Eve, and I saw the church world get creative for the first time in a long time.
Apparently a young 20 something from California who migrated to Columbus with his wife wrote a handful of songs he wanted to share with a few of his friends from church.  Henry is painfully shy, yet looks like a rock star (my first impression) but he went to friends, including one of my best friends in high school, and asked if he could perform some of those songs for them.  At the same time, I asked Clay if my wife and I could come hang out with them for New Year's.
All the pieces came together.
My wife and I arrived to Clay's house a few minutes late, not knowing anyone except Clay and his wife Carrie.  We quickly talked to strangers from Clay's church.  These people were great!  Both Carie and I enjoyed the conversations.  Then someone gathered everyone together in the basement for what?  I had no clue but was about to find out.
The church, or at least the portion of people who knew Henry well gathered downstairs to listen to his concert.
He started and it was painfully obvious he wasn't used to performing his own songs in front of people.  Henry introduced them as laments that came from "deep in his heart" and from the very beginning, a group of 38 or so people who knew him and loved him, and 2 strangers from the northeast sat captivated through 11 songs that clearly pored out of his heart.
To be clear, Henry needs to grow if he decides to "go public" with his music.  I thought the music was solid and his voice was fantastic, but the presentation struggled as far as in front of a group of onlookers.  But that is not really my larger point.
I believe 40 people who listened to his music were blessed and forced to think deeply about themes of hurt and hope and God and trials and trust and a number of other things that life frequently presents those of us struggling to find meaning with life and with the circumstances God allows us to go through.  Henry held my attention through every song and I'm seriously proud of this church for building community in such a way that there was nothing awkward in these moments we all experienced for a bit over an hour on New Years Eve.
What if the church took a break at times from its belief that one hour on Sunday mornings was the most important hour of the week?  What if the people of God took a break from the lights and the production (all of which I love by the way) and gave credence to the Henry's of this world, who may not be the guy who leads the stage on the weekends, but who has the kind of talent and belief in himself to call a group of friends and say, "Hey, can you come together and listen and hear some things that have been on my heart in the form of song?"
New Year's Eve brought an evening I won't soon forget.  I went to church.  At my friend Clay's house.  I heard worship.  I thought about my own life through the lenses of Henry's worship.  Creativity abounded.  The church's future is bright.